What is the Price of Talc Grinding Mill?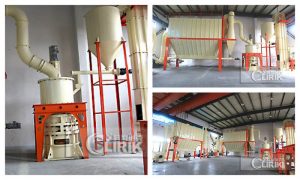 As we all know, every products on the market has value. Do you know what's the price of talc grinding mill? I will tell you soon.
Shanghai Clirik Machinery is a professional talc grinding mill manufacturer. Besides talc grinding mill, we also provide vertical roller mill, Raymond mill, micro powder grinding mill etc, whose finished powder can be applied in many industries such as metallurgy, construction, chemical, electricity and medical etc. We always take the customers' profits as core value, forming an excellent after sales service team, who can provide you high efficient, fast and good product service.
Having accumulated multiple years R&D experience, Shanghai Clirik has launched the talc grinding mill on the basis of deeply knowing the market and customers' demand. Our talc grinding mill can be called first level equipment because it is stable running, environmental protected and low consumption. Besides, it has long service life, low cost and favourable price and can make fast profits. We will make different plan and then give corresponding quote according to customers' powder making requirements.